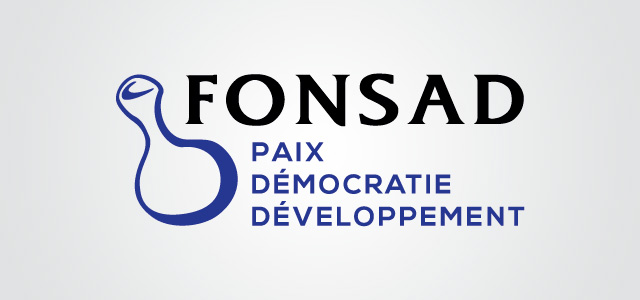 I'm really proud that I was offered the opportunity to design the logo af a new Nigerien foundation. FONSAD, or it's longer name, the Salou Djibo Foundation is founded by Lieutenant General Salou Djibo, known for his involvement in the 2010 Nigerien coup d'état. He deposed the former President Mamadou Tandja, who tried to hang on to power unlawfully. You can read more about it here.
In less than a year, parliamentary and presidential elections were held, after which General Djibo handed over the power to the winner of the election, former opposition leader Mahamadou Issoufou.
It was my commission by an NGO to design a logo. It was the first time that I designed anything for an African client. 
In the local culture, the dried gourd shells are used to store water and since water will be in the center of the development projects financed by the foundation, we decided to make it the logo of the foundation. The symbol of gourd is even more meaningful for Nigerien people, since it is also used in proverbs and expressions to describe plenty and abundance. The color blue also reinforces the reference to water, while also denote hope.
For the website, we went with Drupal, as it can cover all the expectations of the members of the foundation.
Now that the website is up and running, I feel good. Not just that mission accomplished kind of feel good, but that good karma feel good, as I know that I had contributed to make the world a better place, especially now, with all the turmoil happening just next door to Niger.
If I made you curios, had over to www.fonsad.org (the website is in French) and why not, make a donation. It'll be for a good cause.